What is Microfiber
Microfiber is a modern marvel of manmade fibers. It's a blend (usually 80/20) of wedge shaped polyester and polyamide wound into superfine strands(less than one denier) wrapped around a nylon core.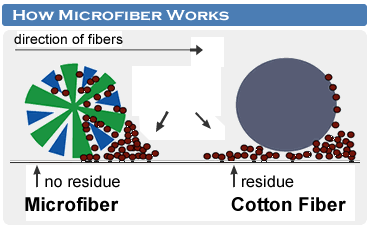 -Unlike cotton cloths, Janilink Microfiber Mops leave no lint or dust.
-Janilink Microfiber Mops actually pick up dust and capture it within the spaces between the fibers instead of just creating a dust storm that resettles on your furniture. You'll dust again half as often.
-Micro Fiber Cloths absorb grease and leave solid surfaces completely clean and streak-free.
High quality Janilink Microfiber mop can hold up to seven times its weight in water so it leaves no moisture -behind each swipe. That makes them fast, effective and efficient.
-One micro fiber cloth can dry a whole sink full of dishes, clean a whole lot of windows and mirrors, or absorb the whole wet spill at once.
-Micro Fiber Cloths are reusable and work best with plain old tap water so you'll save big dollars on paper towels and cleaning chemicals.
-Micro Fiber Cloths are very earth friendly, easily cleaned.
-Cleaning without nasty, harsh chemicals means you won't be creating caustic chemical soup that gets flushed down the drain and ends up in our ground water.
Reasons to Use Microfiber Mopping
1.The Cleaning Staff Likes Microfiber Mopping
Microfiber mopping is more efficient, easier and less tiring, so workers prefer microfiber mops.
2.Microfiber mopping is an inherently effective mopping technique
Microfiber Mop is a strong, lint free synthetic fiber. Each fiber is split during manufacturing, and this split structure makes microfiber effective for mopping:
The tiny fibers make the fabric very absorbent, so the mop holds sufficient water for clenaing, yet doesn't drip. As a result, the pad doesn't need to be replenished and the floor is merely damp and quickly driesafter cleaning, rather than being visibly wet. The microfibers have a positive charge that attracts dust, which has a negative charge. Dust and dirt particles are not only attracted to the microfiber, but are held tightly and not redistributed around the room.
3.Ease of Use
Overall, the worker is lifting less and maneuvering lighter loads. Microfiber mopping completely eliminates rinsing and wringing a heavy loop mop. There is a smaller volume of cleaning solution, the water-soaked microfiber mop is considerably lighter than a loop mop, the wheeled cart is correspondingly lighter and there is no repeatedly return to the sink to dispose of and replenish buckets of cleaning solution.
4.Microfiber Mopping Can Reduce Costs
Although initial purchase costs for microfiber mops are about twice that of loop mops, the useful life of a microfiber mop is about 10 times as long as a loop mop. For many hospitals, water and sewer costs are significant and the reduction in water used yields considerable savings. The reduced volume of cleaning chemicals result in avoided purchase costs. Reduced mopping time frees the staff to perform other productive tasks. Worker compensation claims are likely to be reduced due to the lower potential for injury. Eliminating the need for large janitor sinks and closets simplifies plumbing and maintenance and reduces the storage area needed for supplies.
5.Biological Hazards Are Reduced
The used mop head is changed after every room and sent for laundering. Because soiled cloths are never returned to the cleaning solution, risk of cross contamination between rooms is eliminated.
6.Laundering Resources Are Reduced
Janilink Microfiber mops can be laundered in standard washing machines, while loop mops are usually sent out for commercial laundering at higher cost. Janilink Microfiber mops require less space in the washers and dryers than conventional mops, saving on water, detergent and evergy.
Click on a Product Image

Click a products image or title to see all of the information about it as well as other products in its category!
All Products In Current Category
Displaying 1 to 20 (of 20 products)
1 |