Hand Sanitizer
Click on a Product Image

Click a products image or title to see all of the information about it as well as other products in its category!
All Products In Current Category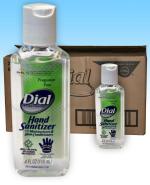 List price : $100.13
Our Price :

$52.98



Product Code : 490899CS
When hand washing isn't an option, Dial Hand Sanitizer is the answer. It kills over 99.99% of harmful germs in 15 seconds.
Displaying 1 to 2 (of 2 products)
1 |